PRESENTATIONS TO NCDA MEMBERS

The NCDA committee is keen to ensure that members are kept up to date with new developments, any special offers, and savings, along with regulations and guidance. This is the sort of information that would have been shared at the NCDA Expo, which we were unable to deliver last year.

Given the importance of knowledge and information sharing, the NCDA Committee is delighted to offer NCDA members the opportunity to talk to our partners, listen to updates and hear about any special offers via the following virtual sessions.
Please do register in advance to support the partners who are giving their time to NCDA members.
Fleetmaxx Solutions Presentation to members - BOOK HERE
Mark Checksfield from Fleetmaxx Solutions presentation to NCDA members
17 Jun 2021 5:00pm Members only

Fleetcheck Presentation to members - BOOK HERE
Barrie Wilson and the team will talk about their products and how they can help NCDA members.
23 Jun 2021 5:00pm Members only

IN-SYNC Presentation to members - BOOK HERE
Sarah Nundy from In Sync presentation to NCDA members.
30 Jun 2021 4:30pm Members only
---
QUEST BUSINESS SUPPORT SERVICES
A reminder that all member firms have their own unique log in details but should you need urgent access a generic password is available via the members' pages of the NCDA website. CLICK HERE TO BE REDIRECTED
---
WHAT YOU SHOULD KNOW BEFORE GETTING A DASHCAM
DASHCAMs are cheaper, smaller, and easier to use than ever before. A surge in popularity and significant steps in technology have led to a price drop. More importantly, having a dashcam installed in your van or lorry can save you money on insurance. Here are a selection of questions and answers relating to fitting and using a vehicle camera system.
How is it fitted? You can mount a video dashcam on the dashboard or windscreen of a car. Generally powered by the car's 12v system, it continuously records the view of the road and traffic through the windscreen.
How does it store footage? Typically a dashcam continuously records video footage on internal memory or a removable card (such as an SD card). When the memory fills, the camera automatically overwrites the oldest files.
Are there better recording options? Yes, utilising 4G communication technology, incident footage can be sent directly via email to allow you to view the evidence within minutes. You can also combine cameras and tracking for an affordable monthly price.
What are the advantages of a dashcam? As fraudulent insurance claims increase, a dashcam provides vital evidence of what happened and who may have been involved.
Can I share my footage of a dangerous driving incident with the police? An increasing number of police forces are accepting dashcam submissions showing dangerous driving or driving without due care and attention.
Could the footage recorded on my dashcam be used against me? Yes. If you are involved in a collision or are stopped by the police for committing an offence, then officers can seize your dashcam.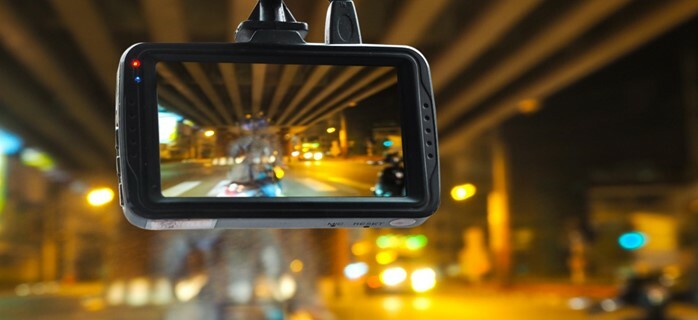 ---
SOCIAL MEDIA

| | |
| --- | --- |
| | Don't forget to follow, like, and share social media posts from us! |
---